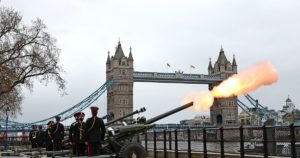 Gun salutes have been fired throughout Britain in honour of Prince Philip who has died aged 99.
Batteries in London, Edinburgh, Belfast, Cardiff, and other cities fired 41 rounds at one every minute from midday.
Ships also took part in the honour.
The public was urged to watch the ceremony online rather than gather at firing sites.
Paying tribute, the Chief of the Defence Staff, General Sir Nick Carter, said:
"His Royal Highness has been a great friend, inspiration and role model for the armed forces, and he will be sorely missed.
"A life well lived, His Royal Highness leaves us with a legacy of indomitable spirit, steadfastness and an unshakeable sense of duty. From all of us who serve today and who have served, thank you."
Gun salutes have been fired to mark national events
Gun salutes have been fired since the early 18th Century to mark significant national.
Both Queen Victoria in 1901 and Winston Churchill in 1965 were given the honour.
Ships taking part in the 41-gun salute included HMS Diamond, HMS Montrose and HMNB Portsmouth.
Details of the duke's funeral, due to take place at St George's Chapel, are also expected to be released this weekend.
However, Covid-19 restrictions will play a part in the day of mourning.