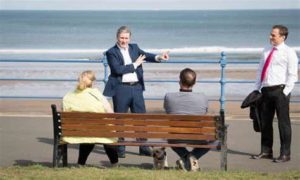 The Labour Party is on course for an "absolutely catastrophic" result in the Hartlepool by- election next month.
A poll suggests the Conservatives are ahead by seven points in a poll commissioned by the Communication Workers Union (CWU) – Labour's fifth biggest union affiliate.
It predicts Tory candidate Jill Mortimer will take 49 per cent of the vote with Labour's runner Dr Paul Williams on 42 per cent.
The Tories are hoping to take the seat for the first time since 1959.
Only 502 people took part in the poll by Survation – giving Labour some small comfort in a constituency of 70,000 people.
However, the figures will cause concern.
Labour leader Sir Keir Starmer has seen his popularity rating falling over the last few months.
The poll showed just 24 per cent had a positive opinion of Sir Keir – with Prime Minister Boris Johnson taking 49 per cent.
Dave Ward, CWU General Secretary, said of Sir Keir:
"The country has been left shrugging its shoulders and asking, 'Who are you then'?
"Working people want the real thing, they want politicians that have a moral backbone, that can tell you what they believe because it's an integral part of who they are and not because it was approved by a focus group and a handful of the political elite."
Mr Ward added that Sir Keir had spent the first year of his leadership "obsessed with telling people that he isn't Jeremy Corbyn".
He added: "Working people want a better lot for themselves and their country.
"They can't be won over by a bit of flag waving."
The by-election takes place May 6th, after Labour MP Mike Hill resigned.
He faces an independent inquiry into allegations of sexual harassment.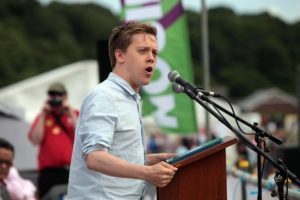 Library: Owen Jones
The possible loss of Hartlepool led Labour stalwart Owen Jones to comment:
"If Labour loses Hartlepool, it's absolutely catastrophic.
"Labour won that seat twice under Corbyn.
"In 2017 Labour's vote share not only increased – but the party also won its biggest majority there since 2001.
"If Labour lose, that defeat has to be owned by the party's leadership."