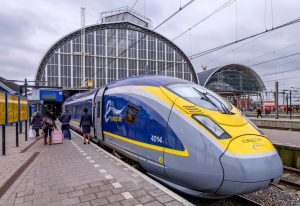 The British Government is in no rush to come to the aid of the stricken Eurostar service between the UK and Europe.
Ministers have told the French they should look to shareholders to solve the crisis.
Despite pleas from the French, Britain has not offered any financial help.
A UK official told the Financial Times: "The tunnel and the rolling stock are there.
"Someone would take them on, even if the company went to the wall.
"There's no appetite for bailing them out at all."
The French hold a majority 55% stake in the cross-Channel service.
Belgium has five percent.
Britain sold its stake in 2015.
France believes the UK should help save the service because its headquarters are based at St Pancras in London.
President Emmanuel Macron expects shareholders and creditors to stump up money before state aid is made available.
Since the Covid-19 pandemic the cross-Channel service has seen a 95% fall in passengers.