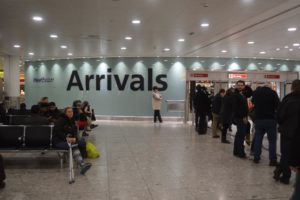 Library picture
More than 8,000 tourists are coming to "lockdown" Britain every day.
The visitors included a man from Peru who put he "wanted to visit Big Ben" on his visa form.
Some 20,000 people arrive in the UK each day – and 40% of them are coming to holiday.
Border Force figures show the busiest arrival points are Gatwick and the Eurostar terminal at St Pancras in London.
Many have tourist visas issued by the Home Office.
People can come to the UK if they have a negative Covid-19 test.
However, Britons cannot take holidays abroad until May 17th at the earliest.
Anyone trying to leave the UK can be fined £5,000.
A member of Border Force staff said:
"There are hundreds upon hundreds of arrivals up and down the UK every day from people who are basically coming here on a two-week holiday.
"There are no grounds to refuse them — arriving during a pandemic isn't one of them.
"As long as they've got an address where they say they'll quarantine, and they've completed their pre-departure tests, they've got their certificates and everything else, they've got means and a return ticket, we've got no grounds to refuse them."
Kevin Foster, minister for future borders and immigration, said:
"We do not recognise these figures.
"We are enforcing tough health measures at the border for the small minority of people coming to the UK, including those entering on a visitor visa for legitimate reasons.
"Since January 2021, we have paused all decisions on visitor visas to applicants applying from a 'red list' country or where it is apparent an applicant has visited one of those countries in the last ten days.
"Border Force officers also have the right to refuse entry to any visitor who they believe has travelled to the UK to carry out activities not permitted under current local health restrictions, such as holidays or tourism, or who will not comply with self-isolation and testing requirements."
The Home Office could not answer why a visa had been issued to visit Big Ben.