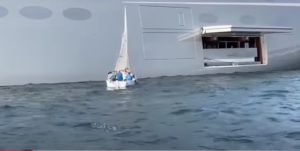 A sailing family trying to get a better look at a Russian billionaire's £360 million yacht crashed into the moored vessel.
They had set sail in their 20-foot boat to see close up the 469 foot "Sailing Yacht A" owned by Andrey Melnichenko.
The super vessel was anchored off Galicia in Spain.
The family boat was joined by dozens of others wanting a glimpse of the luxury visitor.
However, pushed by wind and waves, they sailed too close and found themselves brushing down the side of the super yacht's hull.
The small boat's captain tried to start the engine to pull away, but it wouldn't fire up.
Eventually the motor started and the boat reversed away.
Under rules of the sea the captain of the super yacht will report the incident to the Maritime Captaincy of Vigo.
Russian industrialist Melnichenko is worth an estimated £13 billion made from the fertiliser and coal sector.