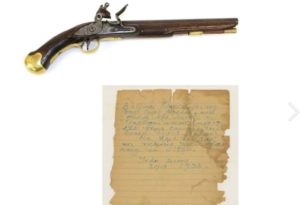 A flintlock pistol used by a sailor during the Battle of Trafalgar is up for auction.
The 22-bore British Flintlock 1801 Pattern Long Service Pistol is expected to fetch more than £2,000.
The weapon was owned by William Rivers and is steeped in British naval history.
Rolled up and tucked inside the barrel was a hand-written note.
It read: "William Rivers was my great great grandad and during the Battle of Trafalgar was in charge of the ships cannons on board H.M.S. Victory.
"He kept his gun on retiring from the navy in 1825 – John Rivers 1906".
William Rivers served aboard Nelson's flagship HMS Victory.
He lost his leg leg at Trafalgar in 1805.
He later became Lieutenant of Greenwich Hospital.
There is a bust of him at the Royal Navy College, Greenwich.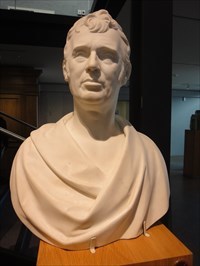 The pistol will be sold at Tennants Auctioneers' on April 14th in Leyburn, North Yorkshire.