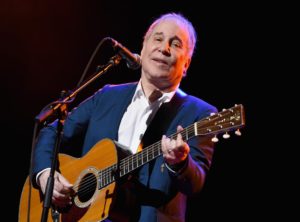 Paul Simon has sold his entire catalogue of songs to Sony Music Publishing.
The deal is said to be worth tens of millions of pounds.
The songs include "Bridge Over Troubled Water" and "Still Crazy After All These Years".
Simon, 79, is the latest musician to cash in on decades of writing songs.
Bob Dylan sold his catalogue of more than 600 songs for £180 million last year.
Simon, a 16-time Grammy winner, said he was "pleased to have Sony Music Publishing be the custodian of my songs for the coming decades."
The artist retired from touring 2018.
He and his singing partner Art Garfunkel started out in the late 50s as "Tom and Jerry".
The duo had a string of iconic 60s hits – including "Mrs Robinson" and "The Sound Of Silence".
After splitting up both performers embarked on solo careers.
John Platt, chairman of Sony Music Publishing, said:
"From Simon and Garfunkel standards like 'Bridge Over Troubled Water' to solo classics such as 'Graceland,' Paul Simon's music resonates deeply as a cultural touchstone for people all over the world."
After selling the rights companies reap royalties from licensing the songs for use in movies, commercials, and branding deals.