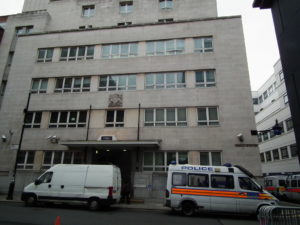 A former cop shop in London's Savile Row has been sold for £50 million.
The nine-storey building at number 27 was recently decommissioned as the West End Central police station.
It has been bought as a "development opportunity" by the European real estate company CPI Property Group.
Number 27 in Mayfair could be used as an office or residential place.
It's believed the deal price was around £50m.
The property has an estimated gross development value of around £150 million  to £200 million.
David Greenbaum, CPI's finance chief, said:
"27 Savile Row is an iconic asset in London's Mayfair that offers superb long-term value."