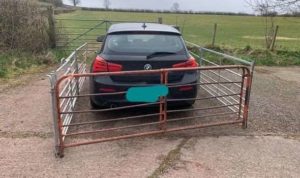 Picture: Emily Durrant
A farmer put a metal fence around a BMW car after it was parked outside his farm gates.
He did so to deter people from travelling to the countryside now some Covid-19 restrictions have been eased.
The farmer in Llangor, North Wales, said he removed the fencing after taking the picture.
But he wanted to make a point by posting the snap online.
Emily Durrant, Wales Green Party councillor for the area, said:
"It's great be welcoming everyone in Wales back to our corner of heaven but please don't be a plonker and park in front of farm gates.
"It is a working landscape, not just a fun place to be.
"When farmers can't tend to their livestock it makes them a little upset.
"Fair enough.
"We are very welcoming of visitors; they are very important to our local economy and they bring a lot to the area.
"But people must respect the fact rural areas consist of working landscapes and they should be treated as such.
"It's the same as parking in front of someone's storefront.
"It's an amusing picture, but the message behind it is a serious one.
"All we ask is for people to be considerate when travelling to rural areas and to be mindful of their surroundings."
Locals praised the farmer for his quick thinking.
Janet Evans said on Facebook: "Well done, people should have more respect for other people."
Gwen Evans wrote: "Nice one, teach them to respect other people's things."
Eifz O'Hare wrote: "Should have put lock and chains around it too!"
And Louise Hughes added: "I would have left it until they got back and left my number for the owners to call me.
"Also, a padlock and chain would have been involved!"