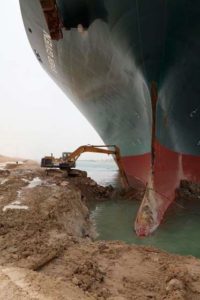 An investigation has started into the Ever Given container ship blocking the Suez Canal for six days.
As the vessel straddled the vital trade route more than £7 billion a day was lost in world trade.
Hundreds of ships were unable to use the canal.
And another 300 ships were scheduled to arrive in Suez over the next few weeks.
Leith Agency, who runs the canal, said 163 ships have now been able to continue their voyages.
And 292 were still waiting to pass through.
Osama Rabie, Chairman of the Suez Canal Authority (SCA) suggested high winds, a sand storm and human error could have played a role in the grounding on March 23rd.
He said: "Such grave accidents may not be caused by a single factor, part of it could be the wind, another part could be the human element, and another part could be technical."
The investigation will look at the ship's seaworthiness and the captain's actions preceding the vessel becoming jammed at her bow and stern.
Ship insurers Lloyd's of London predict a "large loss" running into £65 million.