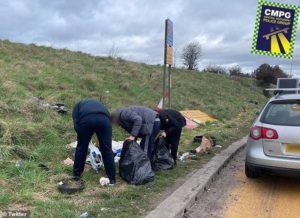 Picture: Highways England
Fly-tippers caught dumping rubbish on the M6 motorway were spotted by beady-eyed CCTV operators.
They saw three men piling bags of rubbish onto the verge near an emergency relief area (ERA) between junction 12 and 13 in Staffordshire.
The spy-in-the-sky team alerted the police who gave chase.
The three men were stopped in a Volkswagen Passat two junctions further up the motorway.
The car was escorted off the M6 and the men were taken back to the scene of the crime.
They were made to put all the rubbish back into the car.
Central Motorway Police Group officers tweeted:
"M6 J12 to J13 an eagle eyed @HighwaysWMIDS who was monitoring the CCTV cameras notice the occupants of a Passat dumping rubbish in an ERA bay.
"We intercepted the vehicle M6 J14 to J15 and escorted them back clear their rubbish up. Details passed to @EnvAgency".
Highways England Network Operations Manager for the Midlands, James Hawkes, said:
"We spotted this blatant and reckless abuse of one of our designated emergency areas on our CCTV system and quickly passed it to the police.
"We continue to work closely with our police colleagues who enforce issues like this."
"Emergency areas are there for just that, an emergency.
'They're not there for people who fly-tip, which is highly irresponsible and illegal."