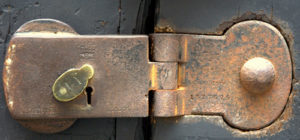 Chubb – one of Britain's oldest lock makers – could be sold for more than £2 billion.
The company, founded in 1818 by brothers Charles and Jeremiah Chubb, is being readied for sale by its American owners.
The Chubbs patented the "detector lock" which jammed shut if anyone tried to pick it.
The invention came as cities embraced the Industrial Revolution – and a rise in crime.
The company quickly moved into manufacturing wrought iron doors and safes at its Wolverhampton factory.
An ever-increasing demand for safety has seen Chubb grow into a world-wide business.