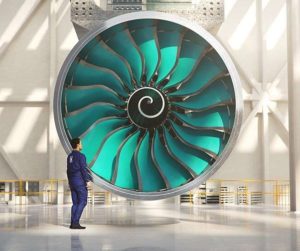 Picture: Rolls Royce
Rolls Royce has started work making the world's biggest jet engine.
The engine is designed to cut emissions for airlines.
It's also a positive sign the aviation industry is looking towards a strong future post pandemic.
The UltraFan is being built at the company's workshops in Derby, East Midlands.
The Government has invested more than £500 million in the project.
The test model is dure for competition by the end of 2021.
The engine is 25% more efficient that Rolls' Trent engine.
It can be powered by sustainable fuels made from waste products – such as cooking oil.
Rolls-Royce engineering and technology director Simon Burr said:
"This engine is not like anything else. When you see it your eyes are on stalks.
"It's truly a work of art.
"We've tested all the component elements and they've worked really well."
Business Secretary Kwasi Kwarteng, said:
"The UltraFan project is a perfect example of how we are working with industry to deliver green, sustainable flight for decades to come.
"Backed with significant government support, this project represents the scale of ambition for Britain's crucial aerospace sector."