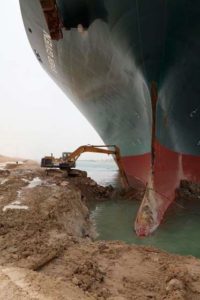 Extra tugs have been brought in to try to shift the container ship Ever Given stuck across the Suez Canal.
The vessel has straddled the waterway since Tuesday.
It's blocking a vital trade link causing hundreds of ships to be stranded either side of her.
Another 300 ships are scheduled to pass through the canal over the next few weeks.
It's reckoned the incident is costing world trade £7 billion a day.
And there are fears goods could be in short supply for months to come.
Two tug boats have been added to the team trying to shift the Panamanian flagged Ever Giving.
They will nudge the 1,312ft (400m) long Ever Given as dredgers continue to vacuum up sand and mud caked to its port side.
It's hoped a high tide will help to shift the stuck ship.
So far, she has been moved 17ft.
But , experts fear too much pushing and shoving could damage the ship's structure – causing an even bigger disaster.
On Saturday, the head of the Suez Canal Authority told journalists that strong winds were "not the only cause" for the Ever Given running aground, amid conflicting assessments.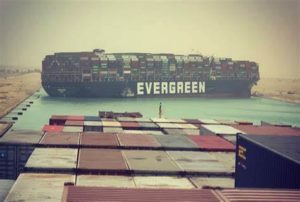 Lieutenant General Osama Rabei, of the Suez Canal Authority, said:
"We are in a difficult situation, it's a bad incident."
High winds have been blamed for the Ever Given going off course.
But investigators haven't ruled out human or technical error as a cause.
Bernhard Schulte Shipmanagement maintains that "initial investigations rule out any mechanical or engine failure as a cause of the grounding".