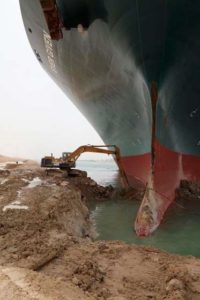 The owners of the Ever Given ship blocking the Suez Canal hope to re-float the vessel today.
She has been struck straddling the canal since Tuesday.
More than 200 ships are caught up either side of the stricken vessel.
The Ever Given is owned by Shoei Kisen. Its president Yukito Higaki said:
"The ship is not taking water.
"There is no problem with its rudders and propellors.
"Once it re-floats it should be able to operate."
The Taiwan ship company hopes to take advantage of a high tide later today.
A Dutch salvage team has been working to free the 1,300 ft long Ever Given which has its bow and stern firmly wedge into the sides of the canal.
The blockage has been costing world trade more than £6 billion a day in delays of goods.
More than 300 ships have routes scheduled through the canal over the next two weeks.
Ships face a 15,000 miles' detour around the southern tip of Africa if they can't use the Suez Canal.