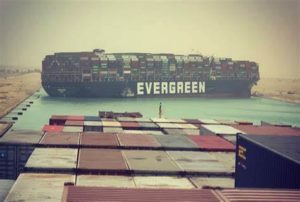 Tugboats, diggers, and a suction dredger are working to try to shift a giant container ship straddling the Suez Canal.
The 1,300 foot long Ever Given is holding up world trade after it ran aground.
It's estimated it's costing £6 billion every day in lost business as more than 150 ships are queuing to pass through the vital trade link.
Not using the Suez Canal adds a 15,000 mile detour around the southern tip of Africa.
Over the next two weeks another 300 ships are heading towards the canal as part of their scheduled routes.
More than 10% of world trade passes through the canal. It is essential for the transport of oil.
The Ever Given – registered in Panama – has her bow wedged against the east side and her stern jammed on the west.
It's not known when the ship, owned by Ever Green Marine Corp in Taiwan, will be freed.
An Egyptian official at the Suez Canal Authority said it was a complex job to dislodge the vessel without causing further problems.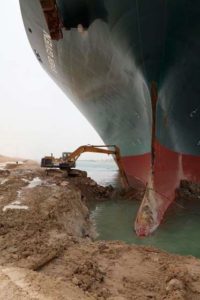 A Dutch salvage team has started to dredge out sand and mud from the stuck bow.
However, it's a gargantuan task.
It's calculated that more than 700,000 cubic feet of sand needs to be moved to allow the Ever Green to be re-floated.
It's thought the ship could have been "knocked sideways" as she entered the canal from the Red Sea.