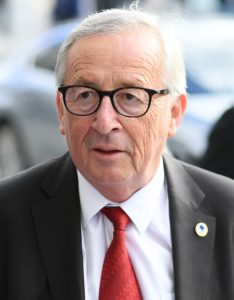 Jean-Claude Juncker
The EU should walk away from starting a "stupid vaccine war" with Britain – warns former Commission president Jean-Claude Juncker.
Mr Juncker – no ally of the UK after Brexit – said the EU could suffer "major reputational damage" if it continues to threaten to restrict the Covid-19 serum.
The EU wants to halt exporting the vaccine to countries that are faring better in rolling out jabs.
Mr Juncker told the BBC's Hardtalk: "I do think that we have to pull back from a vaccine war.
"I think that there is room for dialogue, for discussions, for developing arguments on both sides of the Channel.
"Nobody in Britain, nobody in Europe understands why we are witnessing such a, according to the news, a stupid vaccine war.
"This cannot be dealt with in a war atmosphere.
"I don't like that.
"This has to be dealt with in an intense dialogue between the European Commission and the British Government.
"We are not in war, and we are not enemies.
"We are allies."
Ursula von der Leyen succeeded Mr Juncker after the UK left the EU.
Ms Von der Leyen is seen as a key protagonist in the dispute as she tries to cover EU ineptitude over the vaccine.
Prime Minister Boris Johnson said the UK is "going to keep working with our EU partners and our friends" as diplomatic efforts continue.
He added: "One thing I am firmly libertarian about is free trade and I don't want to see blockades of vaccines or of medicines.
"I don't think that's the way forward either for us or for any of our friends."
However, Health Secretary Matt Hancock did not shy away from suggesting Britain had done a much better job that the EU.
He said: "Our contract trumps theirs.
"It's called contract law – it's very straightforward."