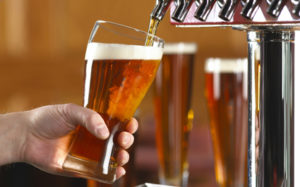 Pub drinkers could be asked to show they've had a Covid jab – or tested negative – before being served.
Prime Minister Boris Johnson said:
"I think that that's the kind of thing – it may be up to individual publicans, it may be up to the landlord."
Downing Street's lack of opposition shows the Government would not be against landlords asking for proof.
It's thought allowing people to prove they are coronavirus free could see a quicker end to social distancing restrictions.
Mr Johnson said: "I've found myself in this long national conversation thinking very, very deeply about it and I think the public have been thinking very, very deeply about it.
"Human beings instinctively recognise when something is dangerous and nasty to them.
"They can see that Covid is collectively a threat, and they want us as their Government and me as the Prime Minister to take all the actions I can to protect them.
"And that's what I've been doing for the last year or more."
And a poll of 1,500 people by Redfield & Wilton Strategies appears to be backing Mr Johnson's strategy.
More than 55% wanted pub goers to have had a jab, with 17% against and the rest did not give an opinion