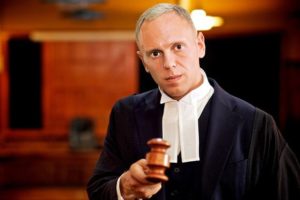 Judge Rob Rinder was left shocked after balaclava clad youths mugged him in North London.
The star of the ITV court show had his mobile phone ripped out of his hands.
The three robbers raced off on bicycles laughing.
Mr Rinder, 42, has offered a reward if the youths are found.
He posted to Twitter:
"I've just had my phone grabbed out my hands by 3 boys wearing balaclavas on bikes (Finchley Road & Canfield gardens).
"They laughed as I shouted to drop it."
The judge said he was left in shock but lucky to be covered by insurance so he can replace his phone.
He told the London Evening Standard:
"After the limited flush of rage, now gone, I feel an overwhelming sense of sadness for these boys – that this is where they are.
"I hope that they'll find something else for their lives.
"How sad they must be, they don't know the path they're on.
"I honestly hope that they'll find purpose, joy and something lawful to do before they get to the end of the path because I've seen – after years of criminal work – what's lies there."