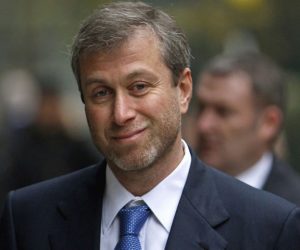 Russian oligarch Roman Abramovich is suing a writer and publisher for "false or misleading" statements that damaged not only him but his Chelsea FC club.
The club owner has filed a defamation suit against Catherine Belton and HarperCollins.
Ms Belton's book "Putin's People" was written with the help of Sergei Pugachev – a disgraced banker on the run from a prison sentence.
In the book Pugachev claims that Abramovich bought the Premier League club in 2003 on the personal orders of Vladimir Putin, the Russian President.
In a statement Abramovich said:
"Today my legal representatives have issued legal proceedings in England in relation to a book that was published in the UK.
"The book contains a number of false and defamatory statements about me, including about my purchase, and the activities, of Chelsea Football Club.
"Today's action was not taken lightly.
"It has never been my ambition to gain a public profile and I have always been reluctant to provide commentary on any matters, including any false or misleading statements about me or Chelsea Football Club.
"However, it has become clear that the false allegations in this book are having a damaging effect, not only on my personal reputation, but also in respect of the activities of Chelsea Football Club.
"It is my hope that today's action will not only refute the false allegations in regard to my own name, but also serve as a reminder of Chelsea's positive footprint in the UK.
"I have every belief that the courts will give me a fair hearing, as they have in the past.'
Pugachev had previously made the Chelsea claim during a High Court hearing.
He lost the case but repeated the allegations for Ms Belton's book.