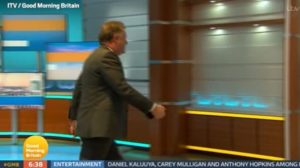 Piers Morgan's on-air disbelief at Meghan Markle's claims made to Oprah Winfrey have led to a record number of complaints to Ofcom.
So far, the television watchdog has received more than 57,000 complaints.
An indignant Morgan quipped:
"Only 57,000? I've had more people than that come up & congratulate me in the street for what I said.
"The vast majority of Britons are right behind me."
A statement from Ofcom said:
"We can confirm that this issue has attracted the highest number of complaints since our reporting began."
Morgan, 55, left the ITV show Good Morning Britain after storming off set.
His walk-out followed an on-screen "ticking off" by weatherman Alex Beresford.
He accused Morgan of "trashing" the Duchess of Sussex after she said she had suffered mentally since marrying into the royal family.
She had also had "dark thoughts" about suicide.
Morgan said he "didn't believe a word of it".
The previous highest number of complaints was 44,500 in 2007 over the Jade Goody and Shilpa Shetty "race row" on Celebrity Big Brother.