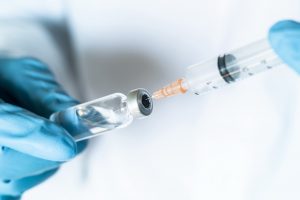 Library picture
Pfizer and AstraZeneca have rejected an NHS claim that Britain faces a shortage of coronavirus vaccine.
Both drug manufacturers insist there is no threat to supplies.
They added they are still on course to make their agreed deliveries.
The statements follow Health Secretary Matt Hancock saying supply was "always lumpy" and a shortage warning from NHS England was "par for the course".
A Pfizer statement said: "We have an agreement with the government to supply 40 million doses of the Pfizer/BioNTech vaccine to the UK by the end of the year.
"While the details of this agreement are confidential, we can confirm that Q1 deliveries remain on track and continue to progress in line with the monthly schedule, agreed in advance with the Vaccines Taskforce."
And AstraZeneca said: "Our UK domestic supply chain is not experiencing any disruption and there is no impact on our delivery schedule."
The vaccination confusion coincides with a threat by the European Commission President Ursula von der Leyen to stop vaccine exports to Britain.
Foreign Secretary Dominic Raab condemned the threat as "brinkmanship of the kind operated by undemocratic regimes".