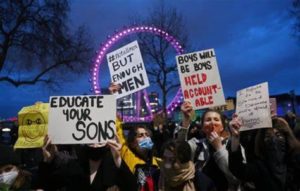 Undercover cops are to patrol bars and clubs in a bid to protect women from men.
The decision follows a meeting of the Government's Crime and Justice Taskforce.
Prime Minister Boris Johnson chaired the meeting called in the wake of the murder of Sarah Everard.
Downing Street said it was taking "immediate steps" to improve safety.
"Project Vigilant" will see officers going to bars and clubs undercover.
There will also be increased street patrols as people leave venues.
Mr Johnson said: "The horrific case of Sarah Everard has unleashed a wave of feeling about women not feeling safe at night.
"We must do everything we can to ensure our streets are safe.
"Ultimately, we must drive out violence against women and girls and make every part of the criminal justice system work to better protect and defend them."
Serving Metropolitan Police officer Wayne Couzens, 48, has been charged with the kidnapping and murder of 33-year-old Ms Everard.
Earlier in a Commons statement, Home Secretary Priti Patel said "too many" women felt unsafe in public.
She added: "Too many of us have walked home from school or work alone, only to hear footsteps uncomfortably close behind us.
"Too many of us have pretended to be on the phone to a friend to scare someone off.
"Too many of us have clutched our keys in our fist in case we need to defend ourselves and that is not OK."