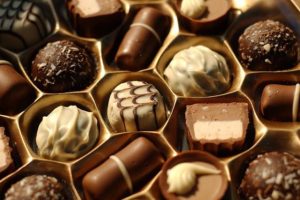 Chocolate maker Thorntons is to close its remaining 61 shops as the Covid-19 pandemic continues to hammer the High Street.
More than 600 jobs are at risk.
Since lockdown began a year ago the company has missed two consecutive Easters and Christmas – prime time for the chocolate business.
Thorntons said those retail losses were "too severe" to overcome".
The company was bought by Ferrero International in 2015.
It will continue to produce confectionary from its plant in Alfredton, Derbyshire, but sales will all be online.
Retail director Adam Goddard said:
"Changing dynamics of the high street, shifting customer behaviour to online, the ongoing impact of Covid-19 and the numerous lockdown restrictions over the last year has meant we have been trading in the most challenging circumstances.
"Unfortunately like many others, the obstacles we have faced and will continue to face on the high street are too severe and despite our best efforts we have taken the difficult decision to permanently close our retail store estate."
Ferrero International bought the company in 2015 for £110m and invested £45 million to turn it around.
However, restructuring was sunk by the pandemic.
Last year, Thorntons reported a 9.5 per cent drop in sales to £122.3m and a pre-tax loss of £35m.
Meanwhile, online sales were up 71 per cent.
The company said: "As customers continue to change the way they shop, we must change with them.
"We have seen a strong growth in Thorntons.co.uk and this will remain a key focus for us.
"In addition, we continue to invest in building our brand in grocery channels with our partners.
"We remain committed to our iconic Thorntons brand and will continue to invest further in the future potential to ensure we evolve with the times."