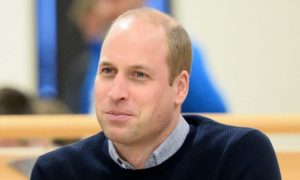 Prince William has insisted "We are very much not a racist family".
His prompt denial came during a visit to a school in East London.
The Royal Family rarely, if ever, responds to questions from a pool of reporters.
But this time William was eager to set the record straight.
A question was shouted from one reporter to the Prince.
He was asked: "Have you spoken to your brother since the interview?"
William replied: "No I haven't spoken to him yet, but I will do."
He was then asked: "And can you just let me know, is the Royal family a racist family Sir?"
The Duke replied: "We are very much not a racist family."
William and Kate were out in public for the first time since the controversial Oprah Winfrey interview with his brother Harry and wife Meghan.
Among the many accusations about life within the Royal Family Meghan claimed someone had asked about the colour of her then unborn son Archie.
The person who made the alleged remark was not named.
However, Oprah was keen to point out later it was not the Queen or Duke of Edinburgh.
In a carefully worded statement, the Queen said the matter was "concerning" and would be investigated.
She did add that "recollections may vary"
Prince Charles, 72, is said to be "deeply concerned" about the racism allegations.
A source close to the Prince said he feels "let down" by his son and daughter-in-law, whom he has supported "more than he would care to say."
The source added: "It goes against everything the Prince of Wales believes in.
"He believes diversity is the strength of our society.
"For Harry to say he feels 'let down' seems a little rich when you consider what he has done.
"The Duke of Sussex continues to say he respects his grandmother, but he has ridden roughshod over the institution she represents.
"Time is said to be a great healer, let's hope so."