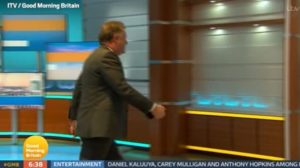 Picture: ITV
Meghan Markle personally contacted ITV to warn that Piers Morgan's dismissive attitude to her mental health issues could prove damaging to others.
Meghan, 39, is reported to have been briefed on Morgan's comments made on the Good Morning Breakfast programme.
Controversial Morgan, 55, told more than a million viewers he "did not believe a word" in the Duchess of Sussex' story as told to Oprah Winfrey for CBS.
Meghan's complaint was not specifically about Morgan but the negative effects his opinions had on understanding mental health problems.
Soon after receiving the email ITV bosses asked Morgan to apologise on air.
He adamantly refused to do so.
He quit hours later after storming off-set during the live programme.
Weather presenter Alex Beresford had taken the former Mirror editor to task over his comments on Meghan.
Dame Carolyn McCall, ITV chief executive, said she "completely believed what [the duchess] says".
She added that ITV was "totally committed to" mental health.
Morgan and ITV also face an Ofcom investigation after the television watchdog received more than 41,000 complaints about his comments.