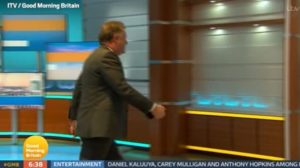 Picture: ITV. Morgan storms off set
Controversial presenter Piers Morgan has refused to budge on his views that Meghan Markle made up her mental health issues.
Hours after walking out on a live Good Morning Britain show an unrepentant Morgan tweeted:
"On Monday, I said I didn't believe Meghan Markle in her Oprah interview.
"I've had time to reflect on this opinion, and I still don't.
"If you did, OK.
"Freedom of speech is a hill I'm happy to die on.
"Thanks for all the love, and hate.
"I'm off to spend more time with my opinions."
After storming off following a "dressing down" from weatherman Alex Beresford about his treatment of Meghan, Morgan quit the show.
An ITV statement said: "Following discussions with ITV, Piers Morgan has decided now is the time to leave Good Morning Britain.
"ITV has accepted this decision and has nothing further to add."
Television watchdog Ofcom will investigaten Monday's GMB after more than 41,000 people complained about Morgan.
An Ofcom spokesperson said:
"We have launched an investigation into Monday's episode of Good Morning Britain under our harm and offence rules."
The sofa row started when weather presenter Beresford defended Harry and Meghan.
In no uncertain terms he tackled Morgan about his controversial comments.
He told him: "I understand you've got a personal relationship with Meghan Markle, or had one, and she cut you off.
"She's entitled to cut you off if she wants to.
"Has she said anything about you since she cut you off?
"I don't think she has but yet you continue to trash her."
A furious Morgan, 55, left the set saying "I don't need this".
ITV's chief executive Dame Carolyn McCall later denied the row had been "manufactured".
Dame Carolyn said ITV's managing director of media Kevin Lygo had already spoken to Morgan about the coverage of the Oprah interview.
She added: "ITV has many voices and we try and represent many voices every day.
"It's not about one opinion."