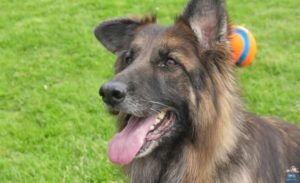 Picture: RSPCA.
A dog owner walked away and did nothing when her partner threw her dog Bella into a river.
The dog – a German Shepherd – had a heavy rock tied around her neck in a bid to drown the pet.
Bella was saved by a passer-by who waded into the ice-cold River Trent to drag her to safety.
Dog owner Charlene Lathan, 32, was given a 12-month community order and fined £80 plus £232 costs.
However, despite naming him in her statement, her then partner Leigh Johnson, 33, did not face the court.
The RSPCA decided there was insufficient evidence against him to ensure a conviction.
Magistrates dismissed the charge against him.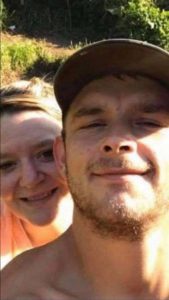 Latham and Johnson
Such was the public anger after the attempted drowning Johnson and Latham were forced into hiding more than 150 miles from their home.
The couple received hate mail and threats of violence.
Latham and Johnson were jointly charged with the attempted drowning of Bella on January 6th, 2020 under the Animal Welfare Act.
Harry Bowyer, prosecuting, told Nottingham Magistrates' Court, Bella was found by dog walkers at around 8.20 am at Farndon, near Newark.
The dog had her head lying on a concrete plinth with the rest of her body submerged in the freezing Trent.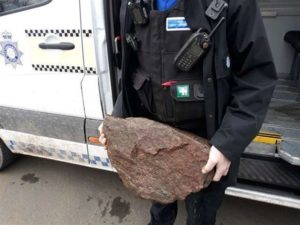 A lead was around her neck and tied to an Aldi plastic shopping bag.
It held a rock weighing 34.7kg.
Bella was weighted to the riverbed.
Passing dog walker Jane Harper braved the cold waters to pull her to safety.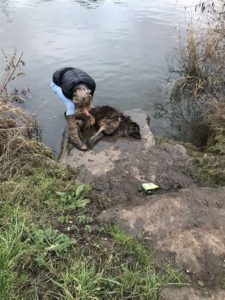 Picture: Jane Harper rescues Bella
Bella was unable to rise, and was twitching and unresponsive.
At the vets, her temperature was too low for a thermometer to take a reading.
She was also found to be underweight and had a matted coat.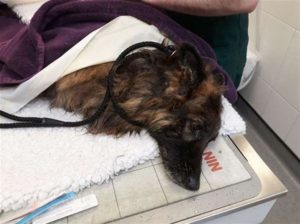 Luc Chignell, mitigating for Latham, said his client was five months pregnant at the time and could not have thrown Bella into the river herself.
Latham had pleaded guilty to not safeguarding Bella's welfare rather than any involvement in her attempted drowning.
Mr Chignell said: "Her role was limited.
He said Johnson and Latham had driven to the river, but Latham had no idea what Johnson intended to do and had begged him not to drown Bella.
He added: "I am concerned to hear the RSPCA is not proceeding against the person she named in her statement.
"The RSPCA, it appears now have decided that they are not going to try him as they are not obtaining the evidence to try him.
"The case was adjourned so he could have his trial."
"He [Johnson] is someone who is aggressive and controlling in that relationship, she's not.
"These are very different people with very different roles.
"As a result, only one person is going to take the fall for this.
"The reality is the person convicted of this heinous offence is not here and that's not her fault."
Latham was handed a 12-month community order with ten rehabilitation days, fined £80 and told to pay costs amounting to £232.
After the hearing Inspector Heather Sutton, police district commander for Newark and Sherwood, said:
"Britain is undoubtedly a nation of animal lovers, which has been demonstrated by the overwhelming support we have received from members of the public to help Bella and assist our officers with their investigation into this particularly sad case.
"Animal cruelty investigations can often be very complex, and we have worked closely with the RSPCA throughout.
"I would like to thank the public for their support, which has meant that we were able to make arrests and charges following the investigation."
Bella's rescuer Jane Harper said:
"I honestly don't know how she survived.
"She was in such a bad way.
"She was just a dead weight.
"She was in a terrible state.
"It was such an emotional experience, first spotting her and realising we had to get her out.
"When I first saw her, I thought she was dead.
"I was trying to talk to her and lift her out, but she wasn't responding.
"Then her eyes moved, and I thought I've got to help this dog.
"It was a real struggle and we had to call others to get her out because of the weight.
"I soon realised this was a deliberate act and not just an animal in a tricky situation.
"Her coat was so thick, and she had no strength, but we just kept talking to her and keeping her calm.
"It was a real team effort.
"The police and the RSPCA took it on from there and got her treated remarkably quickly.
"Without that urgency, I'm sure she wouldn't be here today.
"It's quite remarkable.
"It feels great that she's now got a chance to spend her last few years with a loving family.
"It would be so nice that she was giving so much love and attention in her remaining years.
"That's all she needs."