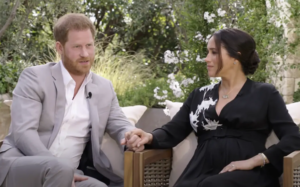 Prince Harry and his wife Meghan Markle have made as series of shocking claims in their controversial interview with soap queen Oprah Winfrey.
The most outrageous comment was that members of the Royal Family were concerned "how dark skinned" her son Archie would be.
Meghan said she felt "suicidal" during her time within the Royal Family.
Also, the Duchess of Cambridge made her cry.
A completely unknown fact was that Harry and Meghan had married in private three days before the wedding ceremony watched by the world.
Meghan revealed their next child will be a girl and she liked a respected the Queen.
The programme was broadcast in America early today and will be shown on ITV tonight.
It's reported the Queen will not watch the interview but will be given a full briefing.
During the interview Meghan spoke of her mental health and how she had suicidal thoughts.
She told Oprah she "didn't want to be alive anymore".
She admitted harbouring dark thoughts of self-harm and having suicidal thoughts.
Harry "cradled her" when she told him, and he later admitted it send him to a "dark place".
His mother Princess Diana suffered similar anxieties.
Meghan claims she asked the palace for help but was told she could not have any.
The most devastating line from the interview came when the Duchess of Sussex said there were "conversations" in the royal household about her then unborn son Archie.
There was concern about the baby's skin colour and how dark it might be.
Meghan refused to say with whom she had the conversation – "it would be very damaging to them" she insisted.
Harry said he too would never name the person or details of the conversation.
The Duke of Sussex spoke openly about his relationship with his father Prince Charles.
Harry said he would always love his father – he had been through "something similar and knows what pain is like".
He said Charles had cut him off financially and they now live off his inheritance from Princess Diana.
Harry said Charles stopped taking his calls after he stepped down from his royal duties.
The couple revealed they married in secret three days before their royal wedding.
They wanted to take their vows privately and asked the Archbishop of Canterbury if they could marry early.
He agreed.
Meghan and Harry also shared the gender of their next child – it's a girl!