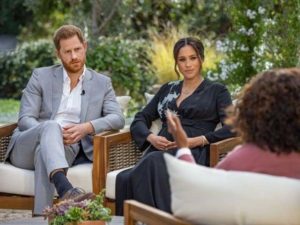 Picture: Joe Pugliese/Harpo Productions
The Queen will not be staying up to watch her grandson Harry and wife Meghan Markle interviewed by Oprah Winfrey.
It has been reported Her Majesty will "ignore" the two-hour show being broadcast tonight by CBS.
ITV will screen the interview 24-hours later.
The Sunday Times reports the monarch will not be watching either show.
Instead, she is said to be focussing on "national issues".
Royal courtiers are said to have dismissed the Oprah interview as a "circus".
And royal advisers are "prepared to retaliate with fresh disclosures about the couple's [Harry and Meghan] behaviour if the monarchy is attacked."
Meanwhile, the Sunday Express reported the Queen is concentrating on doing her duty and the welfare of her husband Prince Philip.
The Duke of Edinburgh has been in hospital for 19 days and has undergone a heart procedure.