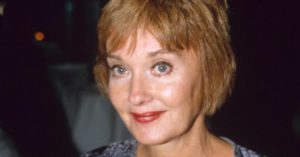 Upstairs, Downstairs actress Nicola Pagett has died.
She was aged 75.
Ms Pagett played Elizabeth Bellamy – the headstrong and defiant daughter of Lord and Lady Bellamy – in the 1970s "posh" soap opera.
Upstairs, Downstairs was a format forerunner to Downton Abbey.
It won four Emmys in its heyday.
Ms Pagett was also a renowned stage actress, particularly in Harold Pinter plays.
The star was diagnosed only three weeks with a brain tumour.
Her daughter Eve Swannell said she died "very peacefully".
Ms Swannell added:
"It was extremely sudden.
"I was by her side".