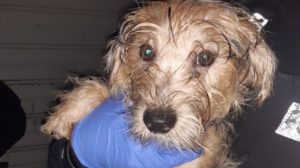 A dozen "distressed" puppies crammed into plastic bags and held in a guinea pig cage have been rescued by the police.
It's thought the dogs had all been stolen.
The police found the "severely dehydrated" puppies at a house in Carlton, in Nottinghamshire.
A member of the public complained about the smell coming from the premises.
Officers found nothing inside but a van with steamed up windows caught their attention.
The saw movement in a bag on the passenger seat and broke into the vehicle.
The puppies were described as being in "an appalling state".
Six of the dogs were in the cage.
A 20-year-old man has been arrested on suspicion of theft and fraud.
The puppies were taken to a vet and the RSPCA contacted.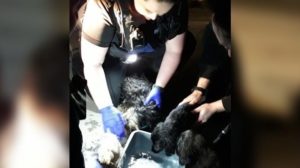 Insp Chris Pearson said:
"The puppies located inside the van were in an appalling state and were visibly distressed.
"We are determined to uncover what has been happening at this house and establish where the animals have come from."
The arrested man remains in custody.