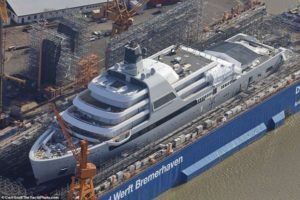 Picture: Carl Groll, The Yachtphoto.com
Russian oligarch Roman Abramovich has launched his new £430 million superyacht.
The 460 feet Solaris entered the water from its dry dock at the Lloyd Werft shipyard in Bremerhaven, Germany.
The vessel has a helipad and swimming pool.
The eight-deck yacht has 48 cabins and rooms for 36 guests.
There are also quarters for the 60-person crew.
The Solaris will now undergo sea trials before Abramovich takes the captain's wheel in the summer.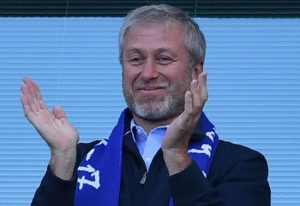 Roman Abramovich
A source told The Sun:
"This will be the yacht of the year when she is launched.
"Details are being kept top secret, but she will be a magnificent addition for the owner.
"To give you an idea of the size of Solaris the yacht shed she is being built in is bigger and taller than Buckingham Palace, so you have some idea of the dimensions."
Abramovich is no stranger to superyachts.
He has owned a series of monster vessels over the years – all worth hundreds of millions of pounds.
It's said two – the Luna and Le Grand Bleu – are fitted with bullet-proof glass and anti-missile detection systems.
The yachts are sometimes loaned to Chelsea managers and footballer.
Abramovich is the owner of Chelsea FC.
However, he has not been to Stamford Bridge for more than two years.
His UK visa ran out and he later withdraw his application for a new one.
He became an Israeli citizen in 2018.