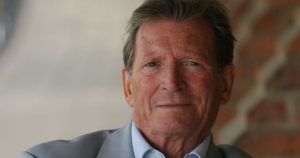 Actor Johnny Briggs, who played Mike Baldwin in Coronation Street for 30 years, has died.
He was aged 85.
His family said he died peacefully after a prolonged illness.
They asked for privacy to "remember the wonderful times we had".
Briggs' character Baldwin had an affair with Deidre Barlow – starting a feud with her husband Ken.
The story line was a constant winner for the soap opera.
John Whiston, managing director of continuing drama at ITV, said Briggs had been "right at the centre of the show for years".
He added: "When Mike Baldwin was in a scene it was very hard to look at anyone else."
Sue Nicholls, who plays Audrey Roberts, said he was "a great friend and always fun to be around".
She said: "He played the part of Mike Baldwin so well that, despite all Mike's ducking and diving, you were always on his side."
Helen Worth, who plays Gail Platt said he was "one of the Street's most memorable characters".
Briggs was born in 1935 in South West London.
He was evacuated to the countryside during WWII.
He started his acting career at the age of 12.
After two years National Service in the Royal Tank Regiment, he returned to the stage.
In had roles in several films and television drama series.
He joined the cobbled Coronation Street in 1976 and quickly established himself as a great character with his double dealing and no-nonsense approach to running a business.
But it was his love affair with Diedre that caught the nation's attention.
Mike Baldwin was to finally die in Ken Barlow's arms after suffering a heart attack.
The episode was watched by more than 12 million viewers.
He was awarded an MBE in 2007.