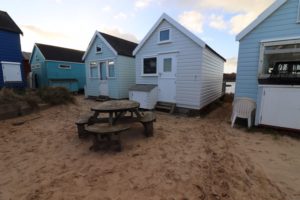 Picture: Denisons
A wooden beach hut that does not even face the sea has gone on sale for a staggering £325,000.
The 16ft by 10ft hut is on the exclusive Mudeford Spit in Christchurch, Dorset.
The building faces inland – although there is a view of a lake.
There is room for seven people to sleep but it has no toilet or washing facilities.
However, there is a communal shower area nearby.
Despite its deprivations it's expected the hut will be sold straightaway.
There is already a waiting list of potential buyers.
Andy Denison, of local estate agents Denisons, said:
"We had a glorious summer last year and demand for beach huts went through the roof.
"We saw a 10 per cent increase in the value of them."