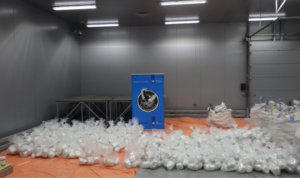 Picture: National Crime Agency
The National Crime Agency (NCA) has seized heroin with a street value of £150 million.
It is one of the Europe's largest ever hauls of the Class A drug.
The NCA worked with Dutch and Belgium enforcement officers to recover more than 1.5 tonnes of the drug.
The raid was in the Port of Rotterdam.
Five men were arrested at an address in Breda, in the Netherlands.
Two have been released under investigation and the three others have been remanded in custody for a further 90 days.
Britain's NCA provided vital intelligence to the operation.
The heroin – the largest haul ever found in the Netherlands – was hidden in a container among a consignment of Himalayan rock salt
Over the last year the NCA has seized more than 116 tonnes of Class A drugs as part of international operations.
NCA Deputy Director Matt Horne said:
"This is a huge heroin seizure and not only have we stopped it making its way to the streets, but we have also denied organised crime tens of millions of pounds in profits.
"The heroin trade feeds addictions that put users' lives at risk, while giving rise to high levels of violence and exploitation that comes with County Lines dealing.
"Through strong relationships with our Dutch and Belgian partners, we are targeting criminals who transport bulk consignments of Class A drugs into Europe and onward to the UK.
"We will continue to work alongside partners here and overseas to target criminals who chase profits while dominating and intimidating communities."