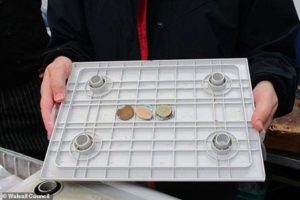 Picture: Walsall Council
A butcher rigged his weighing scales to overcharge customers 30 pence on every sale, a court was told.
Matthew Butler added 1.7 ounces of coins to the scales using Blu Tack.
The trick let him charge customers more for less.
He was caught after undercover trading standards officers visited his shop Muddy Pig Butchers in the West Midlands.
Butler admitted at Dudley Magistrates' Court the fraudulent use of a scale and selling short.
He was told to pay £1,798 in fines and costs and ordered to do 200 hours of community work.
Walsall Council had received a number of complaints about the shop and sent in standards' officers.
They posed as customers and bought stewing steak.
They discovered they were sold 1.7oz short of the weight they had asked for.
The court was told the officers found coins stuck to underside of the scales.
When officers removed the coins and tested the scales, they were correct.
In mitigation, Butler said his shop had been burgled and the scales were damaged.
He said he added the coins to try to correct the weight problem.