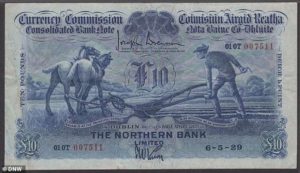 Picture: Dix Noonan Webb
A rare Irish ten-pound note more than 90 years old has been sold for £18,000.
The note, issued by the Dublin Northern Bank, is part of its Ploughman series.
It is only one of seven known to still exist after it was withdrawn by the Irish Central Bank in 1953.
Auction house Dix Noonan Webb of Mayfair, London, hoped the note would fetch up to £26,000.
Auctioneers described the note is "very fine and extremely rare and difficult to find in this grade".
A Dix Noonan Webb spokesperson added:
"The note is from the iconic and popular 'Ploughman' series, it is extremely rare and one of only seven notes known.
'There hasn't been an example come up for auction in over a decade, and the example sold today for £18,000 [hammer price] is the best example known.
"It was sold to a private collector and probably won't be seen for another decade."