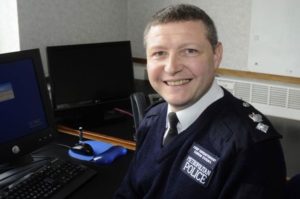 Chief Superintendent Simon Ovens
More than 400 drivers using mobile phones while on the road have been fined in just 21 days.
The offenders were given six points on their licence and fined £200.
The clampdown was a joint operation between the Metropolitan Police and Transport for London.
A further 45 were issued with fines for careless and dangerous driving.
More than 110 were fined for using a vehicle with tinted windows – impairing vision.
Chief Superintendent Simon Ovens from Roads and Transport Policing Command, said:
"The majority of people are responsible motorists who obey the rules of the road and, like me, are opposed to mobile phone use by other drivers.
"However, our ongoing road safety policing continually catches the minority of irresponsible motorists who selfishly use a mobile phone while driving.
"Their reckless actions could be lethal.
"I would like to remind such offenders that you are a significant danger to yourself, your passengers, other motorists and pedestrians.
"You are also breaking the law.
"If you are caught using a phone while driving you will be fined £200 and six points deducted from your licence.
"This could mean retaking your driving test or disqualification from driving altogether.
"If you cause a collision as a result of being on a phone, you could face prison.
"I ask you: 'how would live with yourself if you were the cause of someone's injury or death as a result of driving while on a mobile phone'?
"So, my message is clear: when you are driving, leave the phone alone."