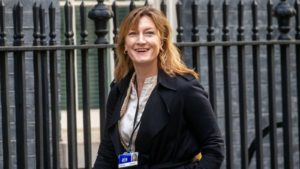 Allegra Stratton
Prime Minister Boris Johnson's fiancée Carrie Symonds "is not" helping run the country, Downing Street has said.
The PM's press secretary Allegra Stratton was emphatic in adding it was "incorrect" to say that was the case.
The denial came after The Bow Group – a Tory based think tank – called for an inquiry into Ms Symond's role behind the doors of Number 10.
However, Ms Stratton dismissed those calls saying there would be no inquiry.
Ben Harris-Quinney, chairman of the Bow Group, said:
"Ms Symonds currently holds no official role in the Conservative Party or the government, yet consistent reports in the press suggest that Ms Symonds is taking a central role in running the country, without any authority or accountability to do so.
"She has not been elected, she has not been appointed, she holds no legal or constitutional powers to make decisions relating to who should hold government posts, to be party to privileged information, or to set the policy direction of the country."