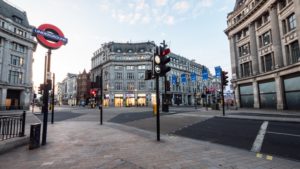 British people have faced one of the toughest lockdowns in the world, University of Oxford reveals.
Researchers have put together a worldwide Covid-19 response tracker to record what policies have been enforced in more than 180 countries.
Since the pandemic began each country scores points out of 100 – with 100 being the most stringent.
The tracker considers – among other things – work and school closures, limits on public meetings, international travel, and stay-at-home curbs.
Britain had the strictest lockdown in the West – a score of 86.11.
Germany scored 83.33, Italy 82.41 and France 63.89.
The UK was the third strictest country in the world – just behind Venezuela (88) and Lebanon (87).
The country with the least oppressive lockdown was Somalia with 2.78.
Thomas Hale, lead researcher on the Covid Tracker project, said:
"The UK has done a lot in this third lockdown and introduced some stringent measures.
"One of the main factors is the school closures, while most of Europe have tried to keep schools open.
"It would make sense the UK has a higher score as it has been hard hit and there have been stringent measures.
"If you take France, they have tried to make things work with a curfew rather than a blanket stay-at-home message.
"The French also have a wider definition of what is essential and no restrictions on being able to move around, whereas you obviously can't go to other parts of the country here."