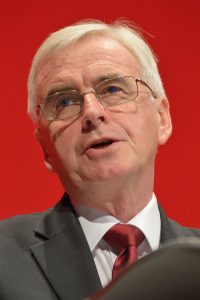 Former Labour leader Jeremy Corbyn should have the whip restored to give the party unity, demands John McDonnell.
The ex-shadow chancellor has called on Sir Keir Starmer to make the move.
It comes as questions are being asked about Sir Keir's leadership after a year in charge.
And despite the political turmoil of the last 12 months, he is behind in the pools.
Mr McDonnell said:
"My only real word of advice to Sir Keir is to unite the party as he promised.
"That does mean giving the whip back to Jeremy Corbyn.
"Let's unite the party so we can move on and really be an effective opposition, by holding this government to account while presenting an alternative."
Mr Corbyn had the whip removed last year after his response to an EHRC report about the Labour Party and tackling anti-Semitism.
At the time Sir Keir said:
"In those circumstances, I have taken the decision not to restore the whip to Jeremy Corbyn.
"I will keep this situation under review."