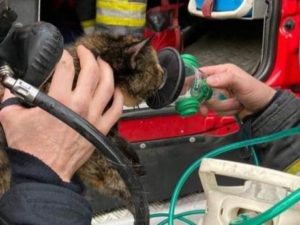 Firefighters have carried out a "purrfect" rescue after saving three cats from a burning building.
They grabbed the pets from the blazing house in Heeley, Sheffield.
The animals were found as three crews doused the flames at the empty property.
All three were given life-saving oxygen using specialists masks before being checked over by a vet.
South Yorkshire Fire and Rescue Service tweeted:
"Big well done to fire crews from Central, Birley Moor and Lowedges who have carried out a 'pawfect' rescue."
And an RSPCA spokesperson said:
"The quick-thinking actions of the fire crews undoubtedly saved the cats which is great news."
They added: "We often work with the fire service and are sometimes called to assist in rescues involving animals.
"In this instance we were not called but we understand crews were able to get the cats out quickly and gave them vital oxygen, so they were able to recover."