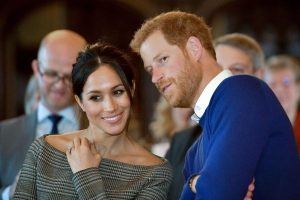 Prince Harry and wife Meghan "crossed a red line" by walking away from the royal family, claimed an expert.
The Duke and Duchess of Sussex have confirmed they will not be returning to a "royal life or its duties".
A Buckingham Palace statement said the Queen was saddened by the decision.
Royal expert Angela Levin added the Monarch tried to "protect the royal family and avoid it being tainted".
Ms Levin said the Queen was a "patient woman", but her utter sense of duty came before grandson Harry.
She added: "The Queen as we know is devoted to her duty and to her country – she loves her children and being a grandmother.
"But in the end her sense of duty is more important than grandchildren or children or great grandchildren.
"She wants to keep them close as a family, but they cannot push their luck too far."
Ms Levin told The Mirror the palace became concerned over how "increasingly escapist" Harry and Meghan had become.
She said: "[The Queen] doesn't want the royal family's name to be tainted in that way and this, I think, crossed the red line.
"She lets her children and grandchildren do what they want up to a certain extent and when they overstep that, she comes down."
The palace statement comes after Prince Harry and Meghan announced they were giving Oprah Winfrey a "tell-all" interview in March.
The Queen is said to be "very concerned" abut the programme and its content.
Ms Levin said: "When senior members of the Royal family say too much or say things that (the Queen) thinks are wrong the whole family is affected by it.
"There's been a lot of publicity saying that it's going to be a tell-all, no-questions-barred, and I think she's concerned about how that would be, and she's got to protect the royal family.
"Harry adores Meghan and is more loyal to his wife than the royal family as she is his priority."