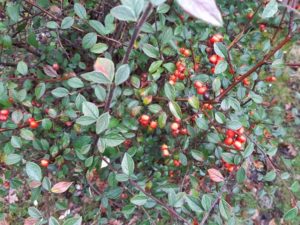 Horticultural scientists have found a "super shrub" that soaks up roadside pollution.
Experts at the Royal Horticultural Society (RHS) discovered cotoneaster was 20% more efficient in absorbing pollution.
The denser, hairy-leaved Cotoneaster franchetii out performed plants like hawthorn and western red cedar.
Lead researcher Dr Tijana Blanusa said:
"On major city roads with heavy traffic we've found that the species with more complex denser canopies, rough and hairy-leaves such as cotoneaster were the most effective.
"We know that in just seven days a one-metre length of well-managed dense hedge will mop up the same amount of pollution that a car emits over a 500-mile drive."
She said cotoneaster is ideal for busy roads in pollution hot spots.
In other areas, where encouraging nature was key, the RHS recommends a mixture of species.