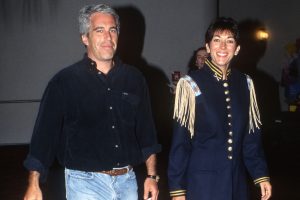 Ghislaine Maxwell and Jeffrey Epstein
Ghislaine Maxwell claims she was "physically abused" at a Brooklyn prison where she is being held.
The British socialite also says she was "punished" for making a complaint.
Ms Maxwell's lawyer Bobbi Sterheim has told a Manhattan federal judge about the alleged incident in the Metropolitan Detention Center.
Ms Stenheim said her client was having a pat-down search in her isolation cell.
Ms Maxwell asked for the search to be recorded on a camera.
The guard her said "no".
Ms Sternheim said:
"When Ms Maxwell recoiled in pain and when she said she would report the mistreatment, she was threatened with disciplinary action."
Days later, said Ms Sternheim, her client was told to scrub and sanitise a shower with a broom.
Ms Maxwell, 59, is awaiting trial on charges that she recruited three teenage girls for Jeffrey Epstein to sexually abuse in the 1990s.
Also, she committed perjury during 2016 depositions in a civil case.