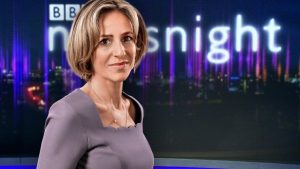 BBC Newsnight presenter Emily Maitlis has landed the BBC in an "impartiality row" after re-tweeting a comment by controversial broadcaster Piers Morgan.
Morgan – a long time critic of the Government's handling on the Covid-19 pandemic – tweeted:
"If failing to quarantine properly is punishable by 10yrs in prison, what is the punishment for failing to properly protect the country from a pandemic?"
Ms Maitlis retweeted the message to her 425,000 followers.
A retweet is seen as an endorsement of a comment.
She later took it down.
The BBC's new Director-General Tim Davie has stressed the importance of the broadcaster's staff staying "impartial" in their social media comments.
He said offenders could be dismissed.
Andrew Bridgen, Conservative MP for North West Leicestershire, said that Ms Maitlis appeared to be ignoring those guidelines.
He added:
"Whatever Tim Davie has said to Emily Maitlis about the charter and the guidelines, it would appear it hasn't sunk in."
The BBC's guidelines on social media state:
"Sharing or retweeting material from other people is part of what social media is all about — but consider that it can give the appearance of endorsement by you or the BBC, so context might well be needed.
"A 'retweets aren't endorsements' or equivalent disclaimer in your bio won't be enough on its own."