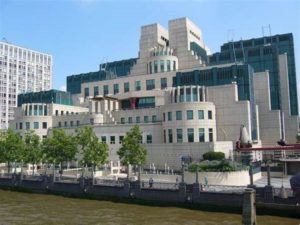 MI6 HQ London
MI6 is looking for foreign-born spies to add to its pool of talent.
The Secret Intelligence Service wants to increase its diversity.
A source inside the MI6 London HQ said the service is looking for a team with "diversification of thought, a diverse workforce, not people who all think in similar ways".
Budding 007s will no longer need to be born in Britain to apply.
However, they must hold British citizenship.
The source added:
"The rules around the employment of dual nationals have changed recently so you can now have been born a foreign national and then have come to the UK.
"This is about giving us access to the biggest talent pool.
"If you narrow the criteria to a British national you will end up with lots of people who are British and educated at red-brick universities.
"We want a diversification of thought, a diverse workforce, not people who all think in similar ways."