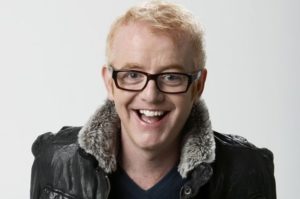 DJ Chris Evans was taken to hospital with painful kidney stones – after believing he had trapped wind.
The 54-year-old went to an accident and emergency department after struggling to shake off "man pain".
After a scan revealed he had kidney stones he was kept in for two nights – missing two days of his Virgin Radio show.
Evans told The Sun:
"I thought I had trapped wind and general 'man pain' most of Saturday.
"I took paracetamol and waited for nature to take its course…. that didn't happen.
"Late Saturday night my wife called 111 and we were advised to go to A&E. Which we did.
"After an ultrasound scan and CT scan, it was clear I had a kidney stone on the move.
"I was subsequently admitted to a ward where I was looked after until I came back home on Monday evening.
"I still have the stone, and if it doesn't come out soon, I will need to go back in and have it removed."
Evans added:
"All the NHS doctors, nurses, porters and consultants were typically amazing, professional, warm, caring – all wrapped up in their usual blanket of selflessness and hilarity.
"Thank you to everyone who looked after me, plus, anyone else I may have met/talked to/annoyed but can't remember because I was pretty much out of it for the first few hours."