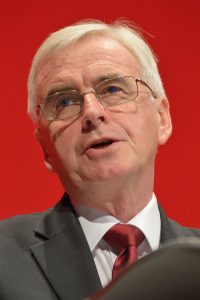 Disgruntled senior Labour MPs want former Corbyn ally John McDonnell to stand against leader Sir Keir Starmer.
The MPs believe Sir Keir has "missed his chance" to take down Prime Minister Boris Johnson.
The Labour leader has had a poor week against the Government.
The vaccination programme is seen as a success.
And Sir Keir was forced to apologise after a fiery exchange of words with the PM.
Despite the Government's "mishandling" of the coronavirus pandemic, they still hold a comfortable lead over Labour in recent polls.
Sir Keir took over as leader following the tenure of Jeremy Corbyn who led Labour to its worst election defeat in more than 80 years.
One former Shadow Minister said:
"Sir Keir has missed his chance to take lumps out of Boris and his serial incompetence.
"Now the vaccination programme's going so well, I'm afraid that Starmer's just missed his chance."
The party is said to be turning towards Mr McDonnell to take over.
The former minister added:
"This is not a coup against Keir.
"We suspect the right-wing will move first against him – not us.
"But if he is forced out, we want John as our candidate as he is by far the most experienced and representative of the party's members.
"As for Starmer, he promised us Corbynism without Corbyn but he's giving us Blairism without Blair."
Mr McDonnell's office dismissed any leadership speculation as "pure mischief".